Podcast: Play in new window | Download

July 14th, 2012 will mark the 100th birthday of the great songwriter, author and artist Woody Guthrie.  On today's show we'll honor Guthrie by playing a number of his songs and taking a look at some of the sources for the melodies he used and influences on the style in which he played and sang.
Guthrie is best known as author of "This Land Is Your Land," but in fact wrote thousands of songs, as well as autobiographical novels, poetry, and humorous op-ed news pieces.  He was also a fine visual artist as well as a rambling man, having traveled through out the United States and also Europe and Africa during in his time in the Merchant Marines during WWII.
There have been a number of books about his life and a film based on his book "Bound for Glory," numerous reissues of his recordings, tribute albums and cover versions of his songs in a number of styles, but I've found that the least explored area of his work are his actual musical sources and style.
Woody Guthrie wrote very few original melodies, he took melodies of old time songs, folk and other songs and rewrote them with his own words to make them his own and into the songs we know today.  Most songwriters who claim Guthrie as an influence today do not perform in a style related to Guthrie's old time style, but instead focus on his lyrics and a some notion of his politics and perform Guthrie's songs and their own songs in a singer songwriter rock/pop based style.
Woody Guthrie was a great folk singer and had great taste in the songs that he used to base his own songs.  He loved the Carter Family as well as apparently many other old time musicians that made 78rpm records in the years before WWII.  Guthrie is pictured below with J.E. and Wade Mainer of the famous and influential old time string band "Mainer's Mountaineers."
By making these juxtapositions of Guthrie's songs and their sources (probably Guthrie's favorite pieces) I hope to place Guthrie aesthetically as an old time / "hill billy" musician much like the other performers featured on today's show.
These are recordings that Woody either enjoyed or I think would have enjoyed, so here's wishing Woody a happy 100th birthday and I hope you will enjoy the program.
Here is a list of all the tracks played on today's show.  Each Guthrie song is followed by its source:

Intro music: Cowboy Waltz (Guthrie on fiddle)
1. This Land is Your Land – Woody Guthrie
2. When the World's On Fire – The Carter Family
3. So Long, Its Been Good to Know Yuh – Woody Guthrie
4.  Billy the Kid – Vernon Dalhart
5. Pretty Boy Floyd – Woody Guthrie
6. Utah Carroll – Cartwright Brothers
7. 1913 Massacre – Woody Guthrie
8. Irish Soldier and the English Lady – Neil Morris
9. The Ludlow Massacre – Woody Guthrie
10. East Virginia Blues – The Carter Family
11. Ramblin' Round – Woody Guthrie
12. Goodnight Irene – Leadbelly
13. Do Re Mi – Woody Guthrie
14. Hang Out the Front Door Key – The Blue Sky Boys
15. Two Good Men (Sacco and Vanzetti) – Woody Guthrie
16. Poor Howard – Leadbelly
17. I've Got to Know – – Woody Guthrie
18. Farther Along – Roy Acuff
19. Phildelphia Lawyer (Reno Blues) – Woody Guthrie
20. The Jealous Lover – The Stanley Brothers
21. The Sinking of the Reuben James – Woody Guthrie
22. Wildwood Flower – The Carter Family
23. Union Maid (Live Excerpt) – Woody Guthrie
24. Redwing – Riley Puckett
Outro Music – Wildwest Rambler by the Crowder Brothers. Once while speaking with the great folklorist Archie Green, he asked me to name examples of old records the prefigured Guthrie's style.  This is one, sounds like Woody and Cisco to me.
P.S. I realized that I should have included "Pastures of Plenty" in this program, which is based on the melody of the folk song "Pretty Polly."  And how could I forget "Tom Joad" based on the melody of "John Hardy!"  There are probably others that I missed too!
P.P.S.  Don't forget to check out:
Woody Guthrie on live on WNYC with Leadbelly in 1940
The program was produced for WNYC in 1940 by Down Home Radio co-founder Henrietta Yurchenco.  The recording of the broadcast was discovered in 2006, at which time I went down to the archives and picked up a CD dub of it from archivist Andy Lanset.  Down Home Radio rebroadcast it for the first time in 67 year in 2007 with commentary by Yurchenco.

l to r: Eugene Rector, Woody Guthrie, Fred Smith, J.E. Mainer, Cisco Houston, Wade Mainer, at the BBC Studios New York. September 11, 1944.
More Thoughts on Woody Guthrie:
The scope of Guthrie's work identifies him as a Popular Front era public intellectual and his influence on generations of artists, mostly song writers, continues to this day.  Woody Guthrie was incredibly prolific, especially considering the brevity of his career, cut short by the hereditary Huntington's Disease that disabled him by the mid 1950's and took his life in 1967.
Guthrie came from a middle class family in what was then the young state of Oklahoma , having been the Oklahoma Territory only 5 years before Guthrie's birth.  But his stable situation was destroyed while Guthrie was still young by his mother's declining health due to Huntington's Disease and the destruction of his father's business ventures in the face of the Great Depression and environmental collapse of the Dust Bowl era.  These calamities set Woody Guthrie out in the streets, where he was able to educate himself at the local library and then onto  the road, traveling the country.  Guthrie was something of an outsider in his own community.  He both adopted and was forced into the role of an Okie migrant laborer but with an outsiders perspective.  He wrote about class inequity and discrimination all of his life and his "on the road" look at the world from the bottom up in many ways prefigures and parallels the work of Beat generation writers such as Jack Kerouac.
For lots more information on Woody Guthrie check out the Woody Guthrie Foundation and Archives: http://www.woodyguthrie.org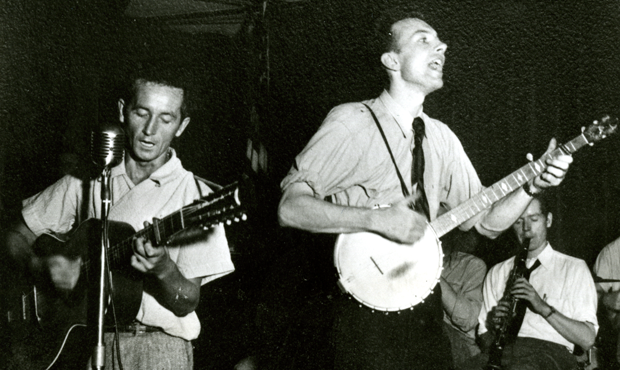 Woody Guthrie, at left with guitar, and Pete Seeger, with banjo

Woody Guthrie with Leadbelly


Woody Guthrie and singing partner Cisco Houston

Woody Guthrie on fiddle plays with the Almanac Singers