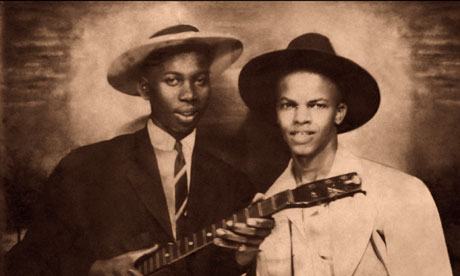 L. Photo of Robert Johnson with Johnny Shines discovered by Zeke Schein, published in Vanity Fair
R. Previously released photo of Johnson
On today's show I speak with Zeke Schein, musician and vintage guitar expert who recently discovered a previously unknown or thought to be lost photo of Robert Johnson with another man who may well be Johnny Shines (this would be by far the earliest known photo of Shines, and he looks quite different as an older man).  The photo has just come out in Vanity Fair, together with an article telling its remarkable story.  I met Zeke at a cafe on 7th Ave. in Brooklyn and over coffee we discussed his own musical background, introduction to blues and the musical community and exchange of ideas that takes place at Matt Umanov Guitars in Greenwhich Village where Zeke works.  We talked about the photo itself, how Zeke found it, and what he has hoped to do by publishing it and through out we spin a bunch of records relevant to the program.  Looking at this photograph brings home to me, among other things, just how young Robert Johnson and Johnny Shines were, and how hip they were- Nice suits!